IAEA/USA Interregional course on
Preparations to Ship Spent Nuclear Fuel (1997)
United States Implementation Strategy
For Research Reactor
Spent Fuel Shipments
---
PDF version NOT available
This lecture is provided below in HTML format with JPG images. Supplementary Lecture L.1.3a contains additional images on research reactor spent fuel shipments.
---
Contact:
Mr. Kenneth Chacey
U. S. Department of Energy
Environmental Management
Forrestal Building
1000 Independence Avenue
Washington, DC 20585
Tel.: +1-202-586-9726
Fax: +1-202-586-5256
E-mail: Ken.Chacey@em.doe.gov
IAEA/USA Interregional Training Course

Technical and Administrative Preparations Required for Shipment of Research Reactor Spent Fuel to its Country of Origin

13-24 January 1997
Argonne, IL
L.1.3
United States Implementation Strategy
For Research Reactor
Spent Fuel Shipments
Kenneth A. Chacey
Acting Director, Office of Spent Fuel Management
Nuclear Material and Facility Stabilization
United States Department of Energy

---
What is Our Goal?
Reduce the threat of international nuclear weapons proliferation while enjoying the benefits of nuclear technology world wide.
---
United States
National Environmental Policy Act
U.S. laws require government agencies to complete detailed scientific analysis of any program/construction that may impact public safety or the environment.

The Final Environmental Impact Statement was completed in February 1996. This analysis found no significant impacts resulting from the Spent Nuclear Fuel Acceptance Policy.
---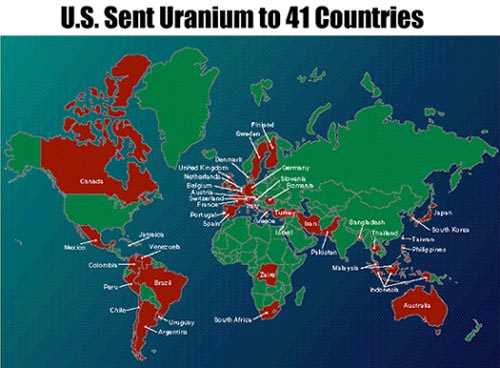 ---
U.S. Research Reactor
Spent Nuclear Fuel
Acceptance Policy
Research reactor spent nuclear fuel containing uranium enriched in the U.S. will be accepted from 41 countries and managed in the United States


About 20 metric tons - tons of HEU

Includes aluminum-based and TRIGA research reactor spent fuel and target material
10-year acceptance policy (May 13, 1996 to May 13, 2006)


Provides lead time for reactor operators to develop own solutions

Fuel irradiated during the ten year window will be accepted over a 13-year period.

---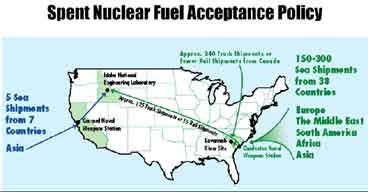 ---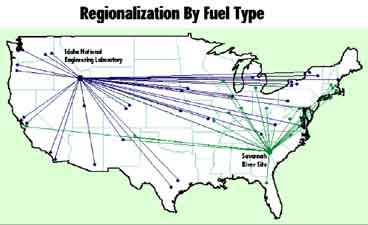 ---
Acceptance Policy
Implementation Status
Litigation

In July, South Carolina challenged the Department of Energy's decision in court
South Carolina and the Department of Energy recently agreed to a litigation schedule
Court hearing held on December 18, 1996
Injunction vacated by court on December 30, 1996
---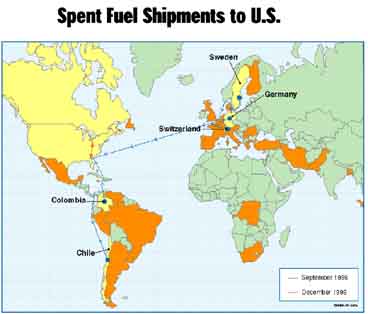 ---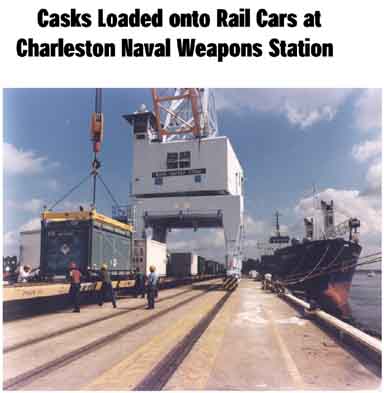 ---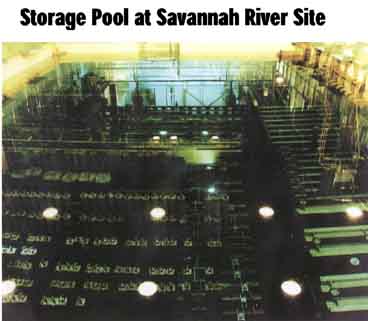 ---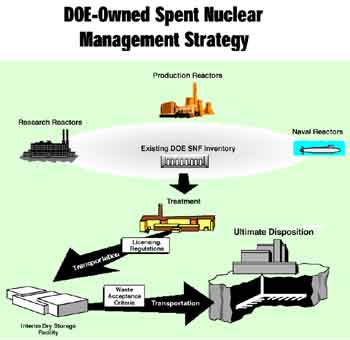 ---
Acceptance Policy - Next Steps
Continued contract negotiations for spent fuel acceptance
Continued data collection on spent fuel characteristics
Continued transportation planning and emergency preparedness activities
---
Developing Technology and
Long-Term Strategies for
Managing Spent Nuclear Fuel
Aggressively pursuing technology research and development program for long-term management of its spent nuclear fuel
Strongly encourage reactor operators to begin now to address the solutions for management of spent fuel in own countries.
U.S. willing to cooperate with interested countries in developing new, viable solutions for managing the back-end of the fuel cycle
Technical strategy established for managing aluminum-based spent fuel


Develop environmentally friendly technologies for treatment, packaging, and disposal
Technical strategy for management of non aluminum-based spent fuel formulated by end of year
---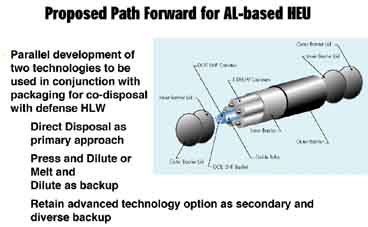 ---
The Advanced LEU Fuels
Development Program at ANL
Goal of program is development of higher-density LEU fuels to enable additional reactor conversions
Program re-started in April 1996


Detailed work plan developed
New equipment ordered
Technical studies and computer modeling work has begun
First test irradiations expected by April 1997
5 year funding level of over $20 million
---
The Success of the RERTR Program
in Meeting Nuclear Weapons Nonproliferation Goals
Since 1978, 26 research reactors (of these, 9 are U.S. reactors) are fully or partially converted
Many other research reactors are in different stages of LEU conversion
These conversions demonstrate importance of RERTR program in supporting nuclear weapons nonproliferation objectives
---
Concluding Remarks
Program now in place to accept research reactor spent fuel
U.S. program designed to allow reactor operators to transition into managing own spent fuel
Initiatives underway to expand HEU-to-LEU conversions


Advanced LEU fuel development

New RERTR partners